We clean the world's finest carpet and fabrics.
on-board or at anchor.
Serving Mallorca, the Balearics and the Meditteranean. We're ready to step in.
Indi-Clean is the first choice for the discerning client who needs deep cleaning of their carpets, fine fabric and furnishings in an efficient and professional way.
We've been trusted with carpet cleaning in Mallorca and restoring fabrics on-board some of the finest vessels around the world from which we've gained a reputation for efficiency and professionalism that we're extremely proud of.
Eco-Friendly as standard
We believe in using the best in class products and systems with which to serve our clients and only use eco-friendly products during our service. As part of the services that we offer we specialise in deep cleaning carpets, fine fabrics and other materials such as wool, silk, linen, sisal, coir and bamboo.
Professional. Efficient. Discreet.
We always respect the privacy and anonymity of our clients. However, what we can say is that they're a discerning group of highly successful individuals with global acclaim. It goes without saying that our clients demand extremely high levels of quality and service from everyone they deal with which is exactly what we provide.
The super yachts we have treated range between 23 and 170m. We've worked on everything from brand new designs straight out of the build yard to the more classic older models of the 50's, 60's and everything in between. We've even treated several classic sailing yachts from the turn of the 20th century, 1902 being the oldest.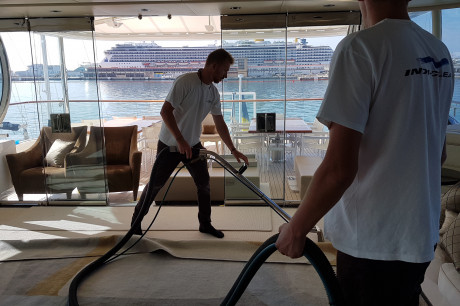 We're proud to have treated vessels built or re-fitted by the following companies…
Tansu Yachts
Benetti
Sunseeker
Alloy Yachts
Amels
Baglietto
Azimutt
Fincantieri Yachts
Ferretti
Heesen Yachts
Custom Line
Lürssen
Perini
Navi Group
San Lorenzo
RMK
Feadship
Timmerman
Blohn+Voss
We're standing by.
Ready to help and advise
Indi-Clean prides itself on the relationships that we build with our clients. It's the reason that we're trusted by the owners and captains of some of the finest yachts in the world. We're always available to help with our services and successfully work to tight and demanding timeframes regularly.
If you need any advice, help or just have questions about our services then you can get in contact with us using any of the methods below. Alternatively, if you'd like to drop into our offices for a face to face then we'd love to meet you and discuss how we can help.